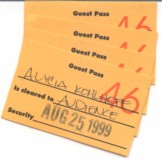 Hey Everybody,
Alycia here and do I have some cool news for you.
My mom and I met this wonderful lady Kathy, that stopped by our favorite site (yes this one!) and she is a producer for the Martin Short Show.
She was letting us know that Jeff would be in California to be a guest on the show and if we lived in the area, we could be her special audience guests to watch the taping. Well you know me, I was on cloud 9 to hear that because as luck would have it, we live in California.
Anyway, we (Me, my mom, my sister Brittanie and my dad and grandma) went to the taping. I felt really important. Kids aren't normally allowed to see the filming there. We had second row seats and our names were taped across them holding our places for us. It was a real party. I'd never seen anything taped live before.
Martin Short is so funny and during a break he came over and shook my hand and waved a little wave to Brittanie (she was being shy). The music was great, we also saw Linda Ronstadt sing and that funny guy from 3rd Rock From The Sun, French Stewart.
Jeff was wonderful, as usual. He brought some baby grizzly bears, a coati, baby alligator, a giant yellow python and more to the show.
Well the best part I must say is that when the taping was just about over...KATHY, my new best friend asked if me, my mom and sister would like to meet Jeff in person. "Um YUP!"
So she took us back to a room where Jeff was waiting and he shook our hands and let me ask him loads of questions. Did you know he has a lot of pets at home (snakes, birds and even a fox)?
Anyway, it's was my best night ever. Kathy let him see our webpage on her computer, and I think he liked it.
Jeff brought pictures and signed them for me and my sister too. I put mine here.
He really is as wonderful in person as we all thought he was.
Thank You Jeff Corwin and Kathy Sutula, For making my fondest dream come true!
Love Ya,
Alycia