Rosie Rows Bingo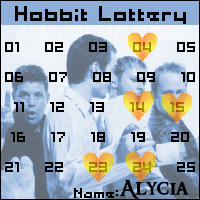 Trade Log...
Signed Up...Got Pre-Join Cards
Got 8 cards for start-up.
Got Opening Day card.
Traded Archer 10 for Wendy's Snake 18.
Traded Longing 7 for Brit's Snake 23.
Played Eowyn's blender, Galadriel's pool, memory.
Puzzle, Treebeard's Trio and found the hidden couples.
Warrior 5 for Heir 7 with Steph...Got her member card too.
Sauron's Slots...I got 3 cards...
Traded Life 20 for Brit's Brave 13.
Traded Bearer 24 and Gardener 9 for
Wendy's Ranger 15 and Fearless 23.
Got Prior 7 from word puzzle in updates.
Trade it with Wendy for Rider 21.
Got 2 cards in Gollum Bytes.
Leveled up to Bree.
Played Sam's Wise Catagories.
Got Snake 1 for Quenya Quotations.
Vile 21 for Brave 3 in Trading Pot.
Got Malice 3 for puzzle.
Neglected 8 for Snake 15 with Faith.
Rider 21 for King 12 from Caroline.
Got two cards in freebies.
Got burden 25 for Quote.
Got Loyalty 13 in Galadriel's pool.
Traded Loyalty 13, Chosen 5 And Burden 25 with Wendy for
Monoghan 5, Mortensen 5 and 16.
Got 2 cards on boards.
Got 1 card for Wormtongues Lies
Got two for Words of Wisdom
Traded Burden 9 and Heroic 5 with Wendy for Malice 1 and 9.
Neglected 2 for Snake 8 with Faith.
Traded Vile 20 for Ranger 13 with Sue
Traded Vulnerable 19 with Allison for Snake 2...Oooo Grima.
Fearless 10 and 23 for Kyrie's Ranger 3 and 20.
Grey 19 for Gardener 20 with Faith.
Played the puzzle, got 2 cards.
Got 3rd place in Quenya Quotations.
Gardener 20 for Mortensen 10 with Wendy
Played License plate game...2 cards
And Saurons slots 3 cards.
Got 3 cards from boards.
Memorial Cards.
Got cards for Sam;s Wise Categories.
Played Gollum Bytes and Treebeard's Trios.
Leveled up.
Played Puzzle and Galadriels Pool.
Mischief 4 for Heir 18 in Dragon Doubles.
Traded Fearless 15 and Prince 5 & 11 with
Brit for Heir 23, Changed 4 and Mischief 8.
Played Where in Middle Earth Am I.
Played Merry and Pippin's Mix ups and Farmer Maggots Crops.
Traded Chosen 13 with Wendy for Tyler 20.
Ranger 15 in one a day.
Traded Ranger 15 in dragon doubles. Got Snake 24.
Played Where in Middle Earth Am I got 2 cards.
Got a card for Quenya Quotes.
Got snake 25 in Free For all.
Added Lottery
Wormtongues Lies
Words of Wisdom.
Got Freebie cards from the boards.
Mortensen 16 for Snake 21 with Liz.
Changed 5 from Caroline for Rider 16.
Monaghan 13 For Ranger 12 with Michelle
My Sneak 16 for Sneak 20 with Wendy.
Traded Wise 4 and 5 for Life 9 and Monaghan 9 with Caroline.
Traded Life 9 with Brit for Monaghan 23.
Played Quenya Quotes. Got a random card.
Played Sma's Wise Categories, got 2 cards.
Matched one # in the lottery and got a random card.
Submitted story to Ever Ever on and got 2 random cards.
got cards on boards.
Ranger 25 double in Dragon Doubles for
One card for Lottery.
Wood 24 for heir 15 with Allison.
Played a bunch of games on vacation and today....Just updating all of them.
Writer 4 for changed 18 with Allison
Fool 2 with Wendy for Snake 12.
Mastered Snake (Yay Grima)
Got 7 cards for Mastering Snake.
Ranger 2 because I'm proud of Aragorn.
Where am I.
Got Fire 7.
Got Firstborn 15 and 17.
Leveled up to Lothlorien.
Updated all my games that I won 8/16.
Had to add like 17 cards.
Traded Ranger 11 for Ranger 4 in Dragon Doubles.
Played a bunch of games.
Leveled up.
Games, Salary, Freebies, and Level up to Rohan.
Mortensen 7 and wood 15 with Lienie for King 4 and 21.
Traded Lothlorien 1, 2, 3, For Wendy's Shire 12, Bree 12 and Moria 23.
Noble 16, Wenham 4 and 9 for Mortensen 20 and Rohan 10 with Faith.
Tyler 20 for Mortensen 13 in TP.
Boyd 12 for Bloom 5 with Brit
Played who am i and gollum bytes.
Bree 24 and 25 with Brit for Isengard 10 and 11.
Traded Bean 9, 24 and Firstborn 15, 17 and 18 with AV for Isengard 14 and 15 and Bloom 17.
Crown card
3rd place in quotes.
9/20 and 9/24 Salary
Quilt patches
Sams Categories.
Won the date with Viggo. Yay!
Salary 2 times,
Freebies 2 times.
Leveled up to Gondor.
Sams Wise C's
3rd place in Jack O Lantern Contest.
Traded Dreamer 4 and Neglected 24 with Lalaith for Heir 9 and 16.