Jeff Corwin's Biography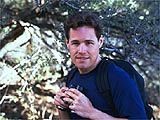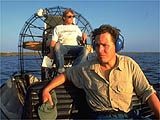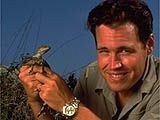 Jeff Corwin Biography

We have been following Jeff's life and career closely since 1998
with this fan site.
His fascinating story began in his youth when he discovered his love
for animals, especially the no-legged slithery kind...Snakes.
Over the years on our website we have been very lucky to have met
some of Jeff's friends, family members, people that worked with him,
and fans that were lucky like us that met him. He is loved by many,
and his adventurous nature has drawn many of us to him.
Jeff Corwin followed his passion for animals throughout his youth and
well into his adult life, by always continuing his education and exploring
the animal world.
Jeff's education is an important part of his life, he says he will never be
done learning. He obtained two bachelor of science degrees from Bridgewater
State College in the areas of biology and anthropology. Currently,
Jeff is finishing graduate work on Central American Bats at the University
Of Massachusetts at Amherst.
Jeff has found his place by educating young and old alike in the
wonders of the animal kingdom.
He has participated in The JASON Project in 1994. He took the role
of an expedition Naturalist on televised broadcasts in the rainforests
of Belize. He then went on to help host and produce an educational documentary,
to be used in classrooms called Jaguar Trax.
In 1997, Jeff collaborated with The Disney Channel to create
the unique series "Going Wild With Jeff Corwin." On this top rate
show, Jeff took children and their families to all ends of the earth,
searching for a "feature creature". Which tended to be something we
had never seen or heard of before. Going Wild ran on The Disney Channel
until 1999, when it ceased to be shown any longer. We received many
heartfelt saddened letters to our site from long time Disney and Jeff Corwin
fans, who thought they had lost him forever.
But our hopes weren't dashed for long. In the fall of 2000. We received a letter
from a woman who works for Discovery channel. She gave us the incredible
news that Jeff would be back on TV in their new Animal Planet feature, "The
Jeff Corwin Experience."
His fans could finally smile again.
Jeff is happily married to a beautiful woman named Tasha. I know that dashes
a lot of young girl fantasies out there, but we want him to be happy right?
He is also the proud owner of many unique pets including snakes and a fox last
we heard.
Jeff is also currently finishing a 32 page book called
Jeff Corwin's Mystery of the Rainforest Chocolate Tree it should
be published and available soon.
To learn more about Jeff, visit his page on the Animal Planet Website,
or read our posted chats with Jeff.